Collaborative Communication for the Workplace
Communication for Life: Supporting people who support people.
Specialising in NGOs, community organisations, social service-oriented businesses.

"Having worked in NGOs and social services myself, I know intimately both their significant importance and potential for positive social change and also the high burn out rate of people working in these often undervalued roles.
I am passionate about supporting the wellbeing of individuals and teams who are serving humanity."
Jocelyn Kennedy
There's such a wealth of research now on the positive impact of empathy and effective communication in the workplace, that authorities such as The Harvard Business Review lists empathy as a core competency for leaders. 
Nonviolent Communication (NVC) has a proven track record in many countries around the world as a very effective communication model for the workplace.
"Upon becoming CEO of Microsoft in 2014, Satya Nadella confronted its legendarily combative culture by urging the company's top executives to read Marshall Rosenberg's Nonviolent Communication, A Language of Life, which preaches the power of empathy, self-awareness, and authenticity in collaboration in the workplace, at home, and beyond."
[Credit]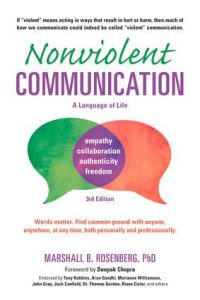 In social service organisations collaboration, mutual respect and support are essential for maintaining morale, wellness and effectiveness.
Training in NVC can help address common issues effectively and harmoniously, whether you are management or staff. For example:
An irritating co-worker
Emotional and physical burnout
A staff member who submits incomplete work
Criticism from a boss
Conflict with a client
Endless meetings that go nowhere
Power struggles
Lack of commitment to the work
Competency in NVC may result in:
Increasing capacity for empathy
Improved self-connection and self-care
Building trust and mutual respect
Managing conflict with win-win outcomes
Increasing accountability to the vision of the organisation
Bringing fun to the workplace
Confidence in taking risks, asking for help
Giving and receiving effective feedback
Increasing effectiveness and efficiency of meetings
Everyone feeling valued and appreciated
Empowerment whatever your place in the organisation
Jocelyn offers NVC trainings, coaching and mediation for the workplace. Get in touch with her to discuss services tailored to your organisation's needs.
Past and Present Clients Include…